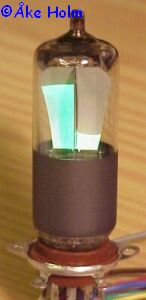 Dual magic eye for side view. The fluorescent targets are separated by a shield connected to pin 6.

Dieter Wolbart tells us that:
The EM83 was introduced by RFT- VEB Röhrenwerke in Erfurt, GDR in the '60 and used as a recording level indicator for stereo tape recorders. It was "their" version of the Western EMM801.
Thanks Dieter.