This site is dedicated to Electron Tubes with emphasis on older military types. You will not find any data about audio applications.
Since my Tubedata Database software no longer works in Windows 7, 8 or 10, I will add screenshots from that database to as many tubes types that I have time for in the near future.
On many CV-types I have also added links to JMH's excellent Virtual Valve Museum where more data can be found.
Almost every tube data page has a link to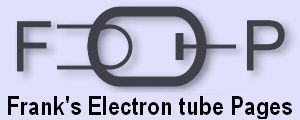 But I have found that not every type has data sheets on Frank's site.
Site updated: 2018-05-14